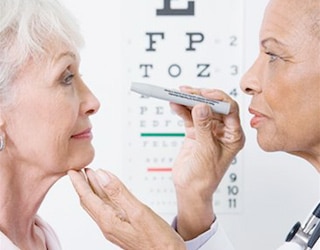 At any age, physical health has a strong impact on mental health. In later life, this association is even stronger because older adults typically have several chronic health conditions that can affect physical as well as mental health.
Vision 
Your family member is experiencing a number of changes in how they see and hear as a result of aging. Some changes are a normal part of aging, although they may require a professional's attention if they cause safety problems or interfere with your family member's ability to enjoy life. Vision and hearing problems are quite common.
Several changes in vision frequently occur with aging. For example, depth perception is decreased, which can cause people to stumble or fall because they can't judge how high a step might be. It is important to help them take special care in unfamiliar surroundings.
An older person's eyes are also slower to adapt to changes in light, which may cause problems with night driving or going from light to dark places. Take extra care with different light conditions such as going in or out of sunlight or from room to room. Older people who drive, may need to limit their driving to daylight hours.
Farsightedness, that is, the inability to see objects close by, may interfere with reading, needlework, or other activities. This can often be corrected with glasses.  And, difficulties in distinguishing the colors blue and green can cause problems when taking pills. Make sure that color isn't the only way that pills can be distinguished.
If you suspect any of these changes, you may wish to get an eye examination for your family member every three to five years more often if necessary. Not only will this help insure that they have proper eyeglasses, but it will also provide a way to detect any serious eye diseases or conditions, such as glaucoma or cataracts.  Paying careful attention to vision can reduce the risk for falls and medication errors and generally provide for a better quality of life.