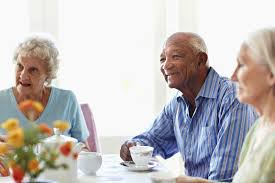 Just to begin, let's be clear that assisted living is not the same thing as placing your loved one in a nursing home.  Actually, assisted living is much like residing in an apartment community.  The difference is that there is 24-hour emergency service available on the site and there are caregiving services throughout the day and evening as well.  Residents also have community activities available to them to keep them engaged and interacting within their community—which is excellent for those who have early onset dementia, or signs and symptoms of cognitive decline.  A caregiver's main goal is to ensure the safety and well-being of their loved one, but moving them to assisted living can be a difficult choice.  Still, at the same time, it can be the best choice.  This can improve the quality of life your loved one experiences.  Best of all, they can remain independent and don't ever feel confined.
The Big Signs it's Time to Plan for Assisted Living Arrangements
Everyone is different, and moving to assisted living really has nothing to do with how old your loved one is.  It's more about what they are able to handle on their own and what physical limitations they might already have.  Let's look at some of the more common signs it's time to move to a caregiving community.
If your loved one is a fall risk and you are worried they might suffer a fatal fall, assisted living might give more peace of mind—especially given the fact these apartment units have an emergency alert system in place.
If your loved one has a slower recovery from sickness than others, you might feel it is safer to have them placed within a community where their health is monitored more closely, but again, they are allowed to maintain their independence for as long as possible.
A chronic health condition can trigger serious worry and anxiety for a long-distance caregiver, especially if the disease is in a progressive state. If your loved one needs oxygen or other necessary medical services daily, you might feel better if they are within a semi-assisted living environment.
If your loved one suffers with dementia that is worsening—it is best to consider moving them to a safer environment where they can be better monitored.
If your loved one seems more frail and has difficulty with daily hygiene tasks, this is a clear signal they need assisted care.
If your loved one has become socially isolated and refuses to intermingle and socialize with others, this might be a concern. This is especially worrisome if they very rarely leave their home.
It's never easy to make a call like this, but sometimes it is necessary to ensure the health and safety of your loved one, as previously mentioned.  If you cannot be there to care for them 24/7, assisted living is the best option you have.  Many families don't want to put their loved ones in a nursing home, but remember, assisted living is certainly not that kind of environment.  When your loved one is clearly showing that living alone is more of a strain than a convenience, be brave and guide them to the right decision!  Assisted living isn't the end of the world and it just might be what they need to improve upon their health and their life!